1 Museum of Fine Arts Boston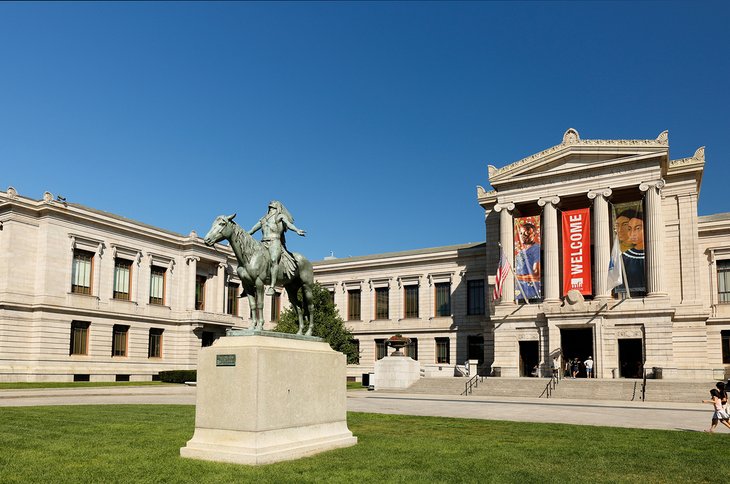 One of the leading art museums in the country, the Boston Museum of Fine Arts excels in its collections of Impressionist paintings, ancient Egyptian treasures, Asian and Persian fine arts, and works from ancient Greece and the Middle East. But its newest and crowning achievement is the construction of an entire American Wing to house, integrated in chronological order, outstanding collections of American paintings, furniture, decorative arts, folk art, silver, glassware, and design dating from pre-Columbian arts to the Art Deco and Modernist eras. Highlights elsewhere include a 12th-century lacquered-wood sculpture of a Buddhist Bodhisattva and Korean painted screens, the ivory and gold statue of the Minoan Snake Goddess from 1500 BC, and a statue of the Egyptian pharaoh Mycerinus and his queen from 2548-2530 BC.
Address: 465 Huntington Avenue, Boston, Massachusetts
2. Museum of Science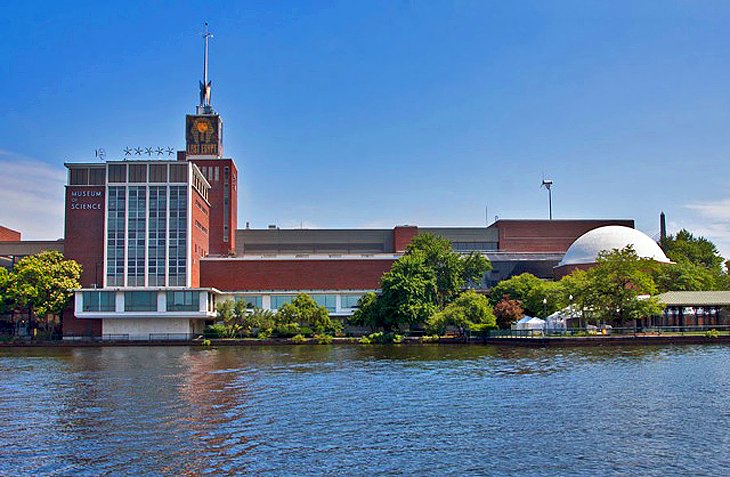 Exhibits in this extensive science museum encourage learning through hands-on exploration of science and technology, but the museum is not just for children. Physics, biology, chemistry, ecology, zoology, astronomy, computers, and more are explored in more than 700 permanent, hands-on exhibits that are enhanced by stage presentations and interpreters. Highlights are a 65-million-year-old fossil discovered in the Dakota Badlands, an electricity dome with continuing programs, the Butterfly Garden where you can walk among free-flying butterflies in a conservatory filled with exotic plants, a live animal center, a chance to join local meteorologists to learn weather forecasting, and ComputerPlace, where you can operate a robot and explore how your computer stores information. The planetarium presents daily laser and star shows, and the Mugar Omni Theater has a five-story domed screen.
Address: Science Park, Boston, Massachusetts
3. Old North Church and the North End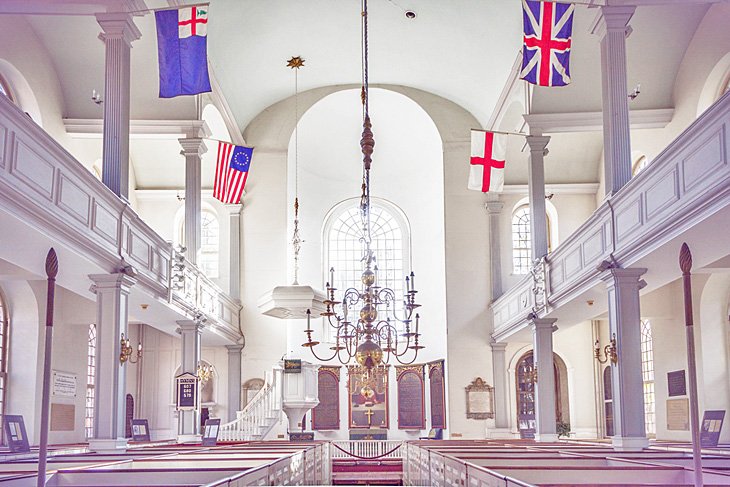 Boston's lively Italian neighborhood, known as the North End, is one of Boston's oldest, where the silversmith and activist leader Paul Revere lived at the time of the American Revolution. The Paul Revere House, which he bought in 1770 and lived in when he made his famous ride, is the only patriot's home on the Freedom Trail, and is open to tour. You can also climb to the tower of Old North Church, where lanterns were hung in April 1775 to alert Paul Revere that British troops were headed to Lexington to arrest the patriot leaders and confiscate the munitions supplies. The beautiful white interior of the church still retains its historic box pews.
The North End is a favorite spot for tourists for reasons that go well beyond its important historic sights. Although it has changed a bit over the years since it was filled with newly arrived immigrants from Italy, it retains its Italian character and lively flair. You'll find Italian restaurants; cafes; bakeries; and shops fragrant with aromas of cured olives, fresh-roasted coffee, and Italian cheeses. You'll also find the North Bennet Street School, where skills such as bookbinding, cabinet and furniture making, carpentry, silver and gold work, and violin making are taught. Their gallery shop is like a museum of fine craftsmanship and a good place to shop for one-of-a-kind gifts.
4. Harvard Square and Harvard Art Museums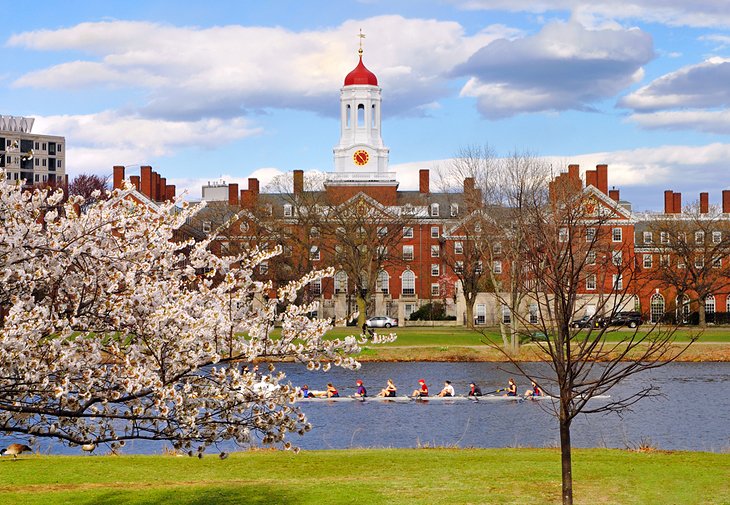 Harvard University, founded in 1636, is the oldest institution of higher learning in the United States and is widely considered one of the world's leading academic centers. Go to the Harvard Information Center to take a spirited and entertaining free walking tour of the campus guided by a student who will share history, Harvard lore, and personal perspective. Or you can download a tour from their website. Harvard Yardsits right in Harvard Square, a lively hub for students, "townies," and visitors, filled with shops, bookstores, and allegedly more places to buy ice cream than any other U.S. city.
Adjoining Harvard Yard is the Renzo Piano-designed home of the Harvard Art Museums, including three formerly separate collections, each of which ranked high as major U.S. art museums. Few universities have such enviable collections. Fogg Art Museum concentrates on Italian early-Renaissance art, the Busch-Reisinger on Expressionist art of central and northern Europe, with Bauhaus objects and paintings by Kandinsky and Klee. The Arthur M. Sackler Museum has one of the world's best collections of Chinese jade, as well as Chinese bronzes, Japanese prints, Indian art, and Greco-Roman antiquities, especially vases and sculptures.
Address: 32 Quincy Street, Cambridge, Massachusetts
5. Boston Public Library and Copley Square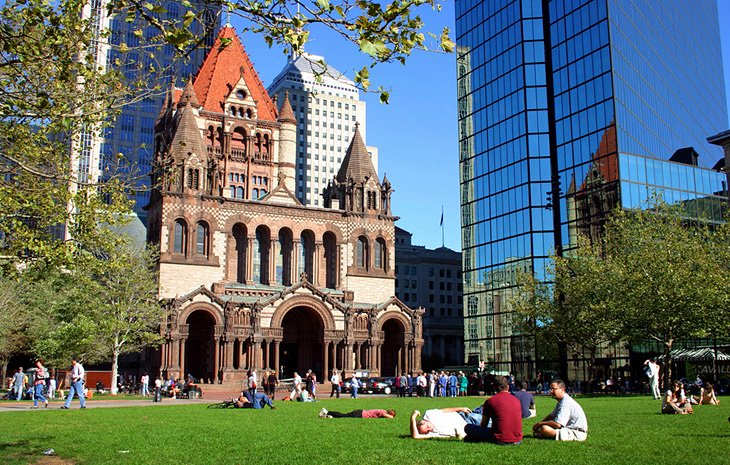 The main square of the Back Bay area is surrounded by both old and ultra-modern buildings. One side is formed by the Boston Public Library, founded in 1848 as the first publicly funded lending library in the country. Architect Charles Follen McKim designed the present building in 1895. Go inside to see the library's Renaissance Revival architecture and murals by John Singer Sargent and Edwin Abbey. Granite medallions over the entrance arches are the work of the pre-eminent American sculptor Augustus Saint-Gaudens. The three sets of bronze doors in the vestibule were created by Daniel Chester French. Regular Art and Architecture Tours are among the several free things to do in Boston.
Facing the library, across a grassy lawn, where you can enjoy a picnic lunch with neighborhood office workers, is Trinity Church, a red sandstone building designed by architect Henry Hobson Richardson in his distinctive style, known as Richardson Romanesque. Trinity is widely considered to be his finest work. The murals, frescoes, and painted decorations inside are by John La Farge and much of the fine stained glass is by Edward Burne-Jones and William Morris. On a third side of the square is the venerable Boston institution, the Fairmont Copley Plaza; these three buildings, backed by the sheer glass wall of a skyscraper, create a stunning cityscape. A block down Boylston Street, look for the finish line of the Boston Marathon, run each April on Patriot's Day. Just beyond is the Prudential Center, a 32-acre complex of apartments, shops, restaurants, and a 52-story tower. On its 50th floor, you can visit the Skywalk observation deck for 360-degree views of Boston and its surroundings.
Address: 700 Boylston Street, At Copley Sq., Boston, Massachusetts
6. John F. Kennedy Presidential Library and Museum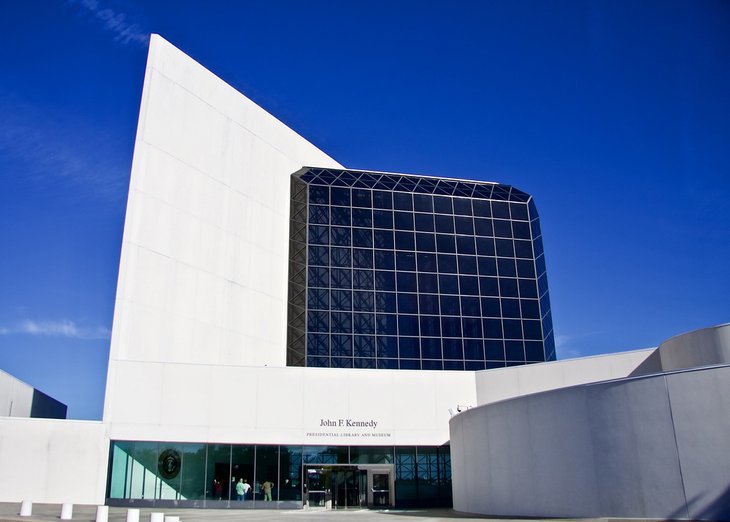 Dedicated to the memory of the thirty-fifth U.S. President, the museum is the official national memorial to JFK, designed by noted architect I.M. Pei and opened in 1979. The museum, which stands on the shore south of the city, features three theaters, personal memorabilia, photographs, and historical exhibits that document the life of JFK and his presidency. Exhibits cover the presidential campaign trail, the Oval Office, First Lady Jacqueline Bouvier Kennedy, and the Kennedy family.
Address: Columbia Point, Boston
7. Isabella Stewart Gardner Museum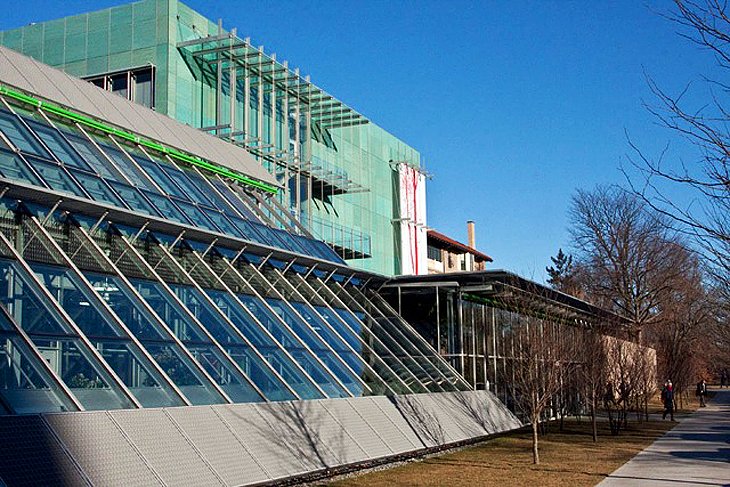 Set in a building its eccentric creator modeled after a 15th-century Venetian palace, the Isabella Stewart Gardner Museum displays its collections in rooms surrounding a four-story central courtyard filled with flowering plants and fountains. The priceless 2500-piece collection of paintings, sculptures, furniture, tapestries, decorative arts, books, and manuscripts reflect the personal tastes and considerable expertise of Mrs. Gardner herself, whose own flamboyance further adds to the charm of the museum.
Behind the palazzo, a 70,000-square-foot glass-clad building designed by Italian architect Renzo Piano creates new viewpoints for the original palazzo and stunning spaces for music and visual arts, allowing the museum to showcase exceptional contemporary works and artists. Rather than clash or compete with the original building, Piano's wing simply provides a new glass through which to view Mrs. Gardner's palazzo. From almost anywhere in the new building are uninterrupted prospects of the palace and gardens through transparent walls. After you tour the museum, stroll through the Fens, a long green space where you'll find a beautiful rose garden in bloom from June through October.
Address: 280 The Fenway, Boston, Massachusetts
8. Harvard Museums and the Glass Flowers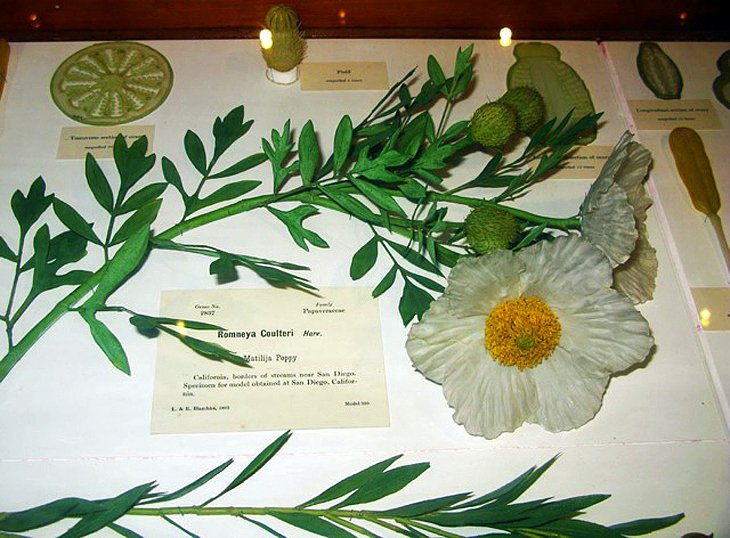 Although the four museums that make up this complex contain treasures such as the artifacts brought back by Lewis and Clark, for most people, the highlight is the more than 3,000 models of 830 species of flowers and plants, some with insects, and all so realistic that you will have trouble believing they are made of glass. Created between 1887 and 1936 by artisans Leopold and Rudolf Blaschka, the flowers are unique in the world, and their secret process has never been replicated. These are part of Harvard's massive research collections, shown under one roof in the Peabody Museum of Archeology and Ethnology, the Mineralogical Museum, the Museum of Comparative Zoology, and the Botanical Museum.
Particularly strong in Native American exhibits, the Peabody shows artifacts and art interpreted as part of a living culture, even when that culture has vanished. You can admire some of the finest examples of Native American arts from many periods and tribes, and also see how these changed as Europeans provided a new market for their goods. Those who like the Victorian "Cabinet of Curiosities" feel of old traditional museums will love the Pacific Islands balcony – it's like stepping back a century. The Museum of Comparative Zoology, founded by Louis Agassiz in 1859, contains an extensive collection of fossils, including a 25,000-year-old mastodon. The mineralogy collections include a dazzling display of rough and cut gemstones, a world-renowned meteorite collection, rocks, ores, and minerals from around the world.
Address: 26 Oxford Street, Cambridge, Massachusetts
9. Boston HarborWalk and Cruises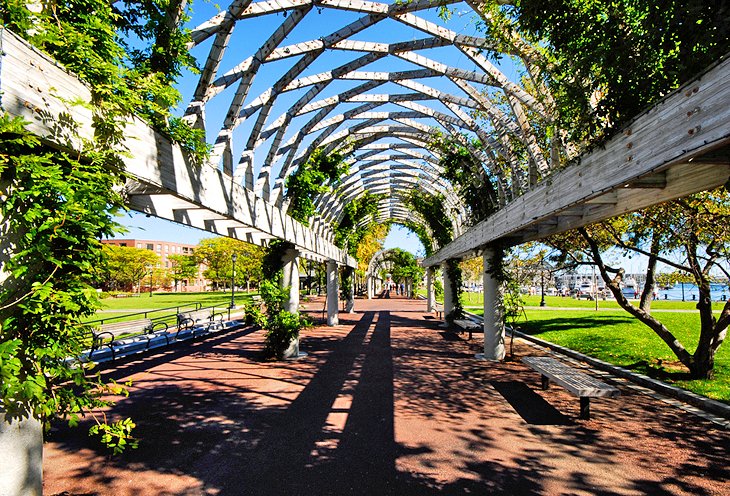 The Boston waterfront has seen many changes since its early beginnings as a colonial shipping port. After a period of decline for much of the 20th century, new life was breathed into the area in the mid-1970s with an ambitious redevelopment plan. Today, this interesting mix of residential and commercial space is connected by HarborWalk, an attractive walkway along the waterfront, with parks, public art, benches, cafés, interpretive signs, and access to several means of exploring the harbor by cruise boat, ferry, or water taxi. A shuttle-boat also runs to the Charlestown Navy Yard.
Although it extends from Charlestown to South Boston – and will expand considerably farther – the part you won't want to miss goes from the North End through the wisteria-draped pergola of Christopher Columbus Waterfront Park, past Commercial Wharf, India Wharf, and Long Wharf, and by Rowes Wharf before curving along the harbor into the vibrant Seaport District to the Institute of Contemporary Art, an art museum dramatically cantilevered above the water. The Boston Tea Party Ship, a replica of one of the original ships from which the Sons of Liberty dumped tea overboard the night of December 16, 1773, offers tours with a participatory reenactment of the event.
At Rowes Wharf, you can board an Odyssey cruise through Boston Harbor from Castle Island to George's Island, then east to the Boston Light on Little Brewster Island, and back north to Charlestown Naval Yard before returning to the wharf. You can enjoy lunch, dinner, or Sunday brunch as you savor the views of the Boston skyline from the water. The skyline is especially beautiful at night, when you can take a starlight or full moon cruise.
10. New England Aquarium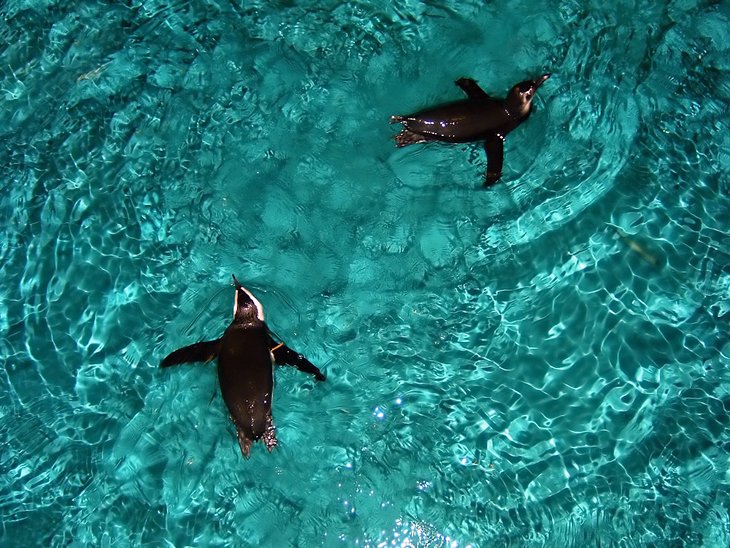 Overlooking the waterfront, the New England Aquarium features more than 20,000 fish and aquatic animals representing over 550 species. A man-made Caribbean coral reef houses a large variety of tropical fish and underwater life including sharks, turtles, and moray eels. The Edge of the Sea touch tank allows visitors to handle small invertebrates like crabs, starfish, and urchins. Outside the aquarium, visitors can watch harbor seals play, perform, and live in their enclosed habitat. The New England Aquarium also sponsors educational programs and whale-watching tours outside of Boston Harbor, and the adjacent IMAX Theater shows 40-minute films on nature subjects.
Address: Central Wharf, Boston, Massachusetts